Current Hero's Wishes
Monday, December 23rd 2019 - Orlando, FL
Disney World my family for Christmas
My name is Michael Emerick. I am a combat wounded veteran that served in Afghanistan. During my 16 month deployment I was involved in numerous firefights and sustained a traumatic brain injury after being shot in the helmet. I suffer from debilitating migraine headaches, neck and back issues, double/blurred vision and PTSD. After my deployment I decided that I didn't want to raise a family in the military. I was honorably discharged and moved to Texas to go to Universal Technical Institute. I graduated at the top of my class only to realize that I could not sustain long hours of working underneath vehicles with my back and neck issues. I am now a full time Dad taking care of our five children while my wife works to support our family. Christmas time with five children is incredibly chaotic. We love our large family, but sometimes the joy of Christmas is overshadowed by gifts. We decided we would love to take our five children to Disney World to create lasting memories rather than give them gifts. However, Disney World tickets are much more expensive than we could've imagined, especially for a family of seven.


United States Army
Severely Wounded Veteran

We need $2800.00 To Make This Hero's Wish Come True

I want to donate $2,800.00 (remaining amount)

Partial Donations Are Welcome!!

Wednesday, January 15th 2020 - Orlando, FL
Post Deployment Family trip to Walt Disney World
My name is SGT Aaron Keehn. I have a beautiful family. An amazing wife and beautiful 4 yr old little girl named Lily Rose. I am presently completing a 9 month deployment over seas, which resulted in me missing out on holiday and family events, including my daughter's 4th birthday. I would love to take my wife and daughter to Walt Disney World upon return from deployment. This is my second deployment, and I can't think of a better way to make up for lost memories, than building new ones at Walt Disney World. I would like to make a Hero's Wish to request (3) Disney World 5-day park hopper tickets for my family.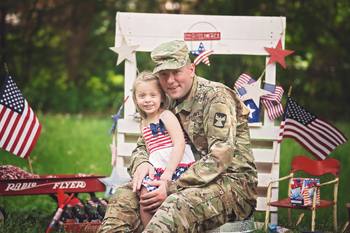 United States Army
Currently Serving

We need $1100.00 To Make This Hero's Wish Come True

I want to donate $1,100.00 (remaining amount)

Partial Donations Are Welcome!!

DISPLAYING 21 - 22 OF 22 RESULTS